UBRD Remote Drive Upblast Propeller Roof Exhaust Fan
Roof Propeller Fan Series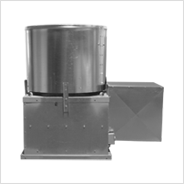 Model Features
Exhaust air up to 72,000 CFM in static pressure applications up to 1/2" w.g.
Straight-through airflow design results in maximum exhaust efficiency
Motor and drives are located outside of the exhaust airstream
Belt drives permit easy performance adjustments when needed
cULus 705 Listed

Model Overview
UBRD units are high capacity belt driven roof mounted exhausters rated from 4,500 to 72,000 CFM. The motor and drives are located outside of the exhaust airstream, making these units especially suited for the removal of heated or contaminated air from commercial and industrial buildings or processes where these conditions exist. All models are capable of continuous operation exhausting air to 200°F.
The remote drive construction allows for easy rooftop belt and motor access for maintenance. For increased air performance (in clean conditions) with the same easy maintenance access, the UBRD is available without the belt and bearing enclosures.
Straight-through airflow design results in maximum exhaust efficiency. During operation, high air flow velocity opens butterfly dampers and prevents rain or snow from entering. Dampers close and cover the venturi opening when the unit is not in use.
The roof-mounted location eliminates interference with processes and equipment inside the building. It also permits locating the exhauster over a source of heated or contaminated air, allowing direct upward venting to the outside, unlike wall mounted exhausters which may move contaminated air through adjacent workspaces.
2-year fan housing warranty, 1-year motor warranty
| | | |
| --- | --- | --- |
| Size | CFM Range | Max SP |
| 24 | 4416 to 9200 | 1/2" |
| 30 | 7812 to 14508 | 1/2" |
| 36 | 10656 to 18816 | 1/2" |
| 42 | 15624 to 27261 | 1/2" |
| 48 | 16192 to 41216 | 1/2" |
| 54 | 22990 to 49210 | 1/2" |
| 60 | 25854 to 56730 | 1/2" |
| 72 | 37665 to 72726 | 3/8" |

| | | | | | | | |
| --- | --- | --- | --- | --- | --- | --- | --- |
| Size | A | B | C | D | E | F | G |
| 24 | 30" | 32" | 30" | 50" | 22" | 16" | 31" |
| 30 | 36" | 38" | 36" | 54" | 22" | 16" | 37" |
| 36 | 42" | 44" | 42" | 56" | 22" | 16" | 43" |
| 42 | 48" | 50" | 48" | 59" | 22" | 16" | 49" |
| 48 | 54" | 56" | 54" | 68" | 22" | 22" | 55" |
| 54 | 60" | 62" | 60" | 70" | 22" | 22" | 61" |
| 60 | 66" | 68" | 66" | 74" | 22" | 22" | 67" |
| 72 | 80" | 82" | 80" | 86" | 22" | 22" | 81" |
General/Clean Air
Contaminated Air